DATA BRIEF: Expanding COVID-19 Testing
Early Data from Akadeum's RNA Extraction Project
for Pooled Saliva Samples
Current testing methods are limited; Akadeum's microbubbles aim to change that.
At Akadeum Life Sciences, we are actively working to develop an innovative approach that makes pooled saliva testing possible – in an accurate and cost-effective way. We have expanded our microbubble platform by functionalizing our revolutionary buoyancy-activated separation (BACS™) technology for RNA isolation in saliva samples, and we're optimizing a workflow that allows for quick and easy RNA extraction in larger volume samples to create a platform for pooled saliva testing that can be done at scale.
Early testing shows Akadeum's microbubbles outperform the
standard extraction kit by as much as 25x, while delivering
300% higher concordance with diagnostics.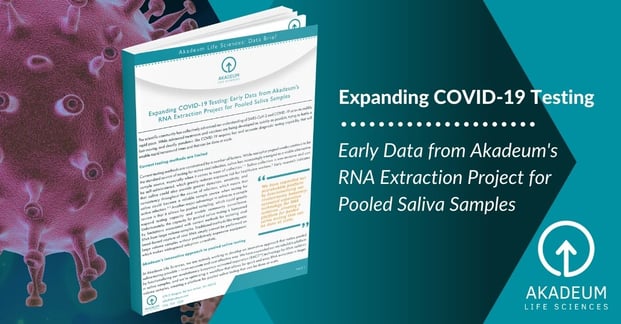 Download the Data Brief today to get a first look. We are actively finalizing our protocol and entering into the next stage of testing to confirm the validity of results with the full understanding that our work today could lead a to better and brighter tomorrow with increased saliva testing capability available at scale.